The double basket quilt block is one of those simple blocks that you can embellish in lots of ways to make it really special.  You could fill the baskets with fruit or flowers, using applique, embroidery or even just substitute a floral fabric in that section between the basket bases and the handles.  It's classified as a five patch block and I have made it here as a 10″ block.
Cutting requirements
2.7/8″ squares:  nine each of brown and cream
2.1/2″ squares:  three brown, four cream
Making the double basket quilt block
Make half square triangles with the 2.7/8″ squares.  Place a brown and a cream square with right sides together and mark a line along the diagonal.  Sew a 1/4″ seam either side of the marked line and cut along the line to produce two half square triangles.  These are both now 2.1/2″ squares.  Press the seam allowance towards the brown triangle and trim the corners where the triangle tips stick out.
Lay the patchwork squares out in five rows of five.  Look for the larger shapes to make sure that you place the half square triangles facing the right way:  there are several larger triangles formed with a square and two half square triangles.  Some of these could have been made using larger half square triangles made from 4.7/8″ squares, but it would have made sewing the squares together more complicated so I have stayed with using 2.1/2″ squares only.
Sew the squares together across each row and then sew the rows together to complete the double basket quilt block.
They are forecasting a bitterly cold start to winter this week so I think that I'll stay tucked up at home and try and catch up on some quilting for the next few days.  My daughter has requested some curtains so I think that should keep me busy.
Linking up with Marelize at Stitch by Stitch: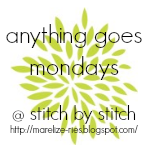 Thanks for visiting my blog.
Hope to see you again soon.
Rose